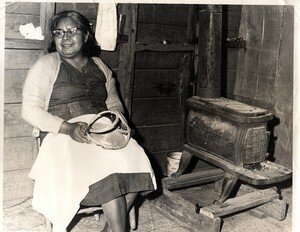 Coushatta men and women have woven baskets for centuries, using materials such as white oak, sedge grass, swamp cane, and other locally available resources. The earliest baskets were used as containers for gathering and storing food, and as items to trade for food and other necessities. In the 20th century, Coushatta basket-makers began to mainly use long-leaf pine needles from the Pinus palustris tree as other materials became increasingly difficult to acquire.
Long-leaf pine needles are gathered, dried, and then coiled into baskets using raffia and sewing needles. Finished baskets may be decorated with pine cones, brightly colored raffia flowers, and geometric designs. Baskets are also made in the shape of animals (known as effigy baskets).
In the latter part of the 20th century, several Coushatta basket-makers were recognized nationally and internationally for the quality of their artistry. Coushatta pine needle baskets have become highly prized and sought-after collectables, in the collections of such prestigious museums as the Smithsonian Institute, the Louisiana State Museum, and Harvard's Peabody Museum. Efforts are underway to teach this art form to tribal youth, to ensure it is carried on for many generations to come.